A one year Center Membership for your church has these benefits:
• Initial remote consultation – supports you in identifying steps to address your priorities and needs.
• Access to Center online learning modules with a maximum Out-of-Pocket limit for one year:
– Discreet online learning modules provide support across the range of church priorities and needs.
– Modules include remote coaching to support implementation.
---
---
Maximum Out-of-Pocket limit:
Provides access to learning modules and coaching for one year
with a maximum cost based on the size of worship attendance.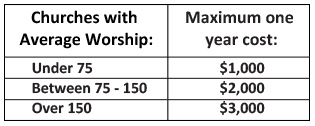 ---
---
Center Membership COST:  
One year membership is $200. (This amount contributes to the Out-of-Pocket maximum.)
---
For the mid Council / Governing body
Mid Council / Governing bodies can support congregations through regional partnerships.
---
Frequently Asked Questions:
What are learning modules?      
Learning modules give you access to the Center's deep and effective consulting experience arrayed for the first time in discreet components.  Each learning module includes downloadable resources, process facilitation details, worksheets and handouts, helpful readings, along with brief video tutorials.  Learning modules are your "coach in the room" with you.  See them here .
Call to ask about something you do not see.
What is "remote coaching support" or consultation?       
Many online learning modules include telephone/email coaching support to help with implementation.  Center consultants are personal and professional, available full time to respond.
        Questions are always welcome!
How is a "Center Membership" a benefit to our church?          
A membership reduces the cost of already value-packed learning modules and provides access to a Center coach while you implement.  A church may wish to access several learning modules over the course of a year and the Maximum Out-of-Pocket cost limit makes a significant season of renewal in your church truly affordable.
How do I begin? 
Purchase the Center Membership below
To contact someone now:
Dale (847-971-3447) phone/text    dale@missionalchurch.org
Ray (630-272-9336) phone/text    ray@missionalchurch.org
or leave a question in the comment section below
---
BUY NOW:
Enter contact information below, click "Add to Cart".
An initial consultation is then arranged.
---