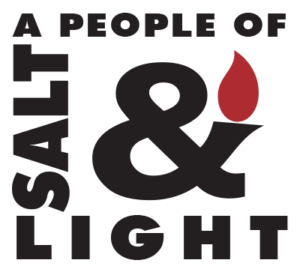 "What would happen if contemporary Christians intentionally engaged Jesus' teachings as a model for community, as a guide for their life together?"
A People of Salt and Light is–
a set of practical Bible study resources for a congregation to deepen its vision of God's calling.
This formation experience will enable your congregation to –
Discover Jesus' vision of community
Share and test their own vision of their church's future
Renew their understanding and experience of what it means to be the church
This is what you'll get:
A group Bible study process on the Sermon on the Mount in 4-6 sessions
Support for the "why Bible study?" conversation
Clear objectives, norms and design to adapt for your church
Printable participant resource
Facilitator's Guide
A distance coaching conversation is included.
Interact with a Center coach to consider –

Best practices for a congregation-wide formation process
Explore the place of Bible study in your congregation's visioning
How to get your leadership team and congregation on board
Join in a journey to discover and embody God's vision and calling for your church
Consider the nature and purpose of Christian community in light of Jesus' teachings in the Sermon on the Mount.
To chat with someone now, call direct:Dale (847-971-3447) or Ray (630-272-9336)or email: dale@missionalchurch.org or ray@missionalchurch.org
Enter contact information, click "Buy Now & Download".

When you purchase, you will get access to these pdf downloads:
"A People of Salt and Light" Bible study
Formation process Facilitation Guide
Cost: $75 per church
If you want to use a credit/debit card and not "Paypal" go to the payment page and click on the link that says "Don't have a Paypal Account?" –follow the directions and it will take you to the credit/debit card page.