It's something most churches want to ask almost every year:  "How will we review ministry and plan for the new year?"
It's October. And it's crunch time. Ministry is getting reviewed and budgets are starting to take shape.  While it may be of interest to consider who is involved, and what and how it happens, what if we also asked, "How does it contribute to really being the church in ways that inspire and up-build one another in a shared ministry rather than competing for scarce resources?"
A typical scenario in October focuses on budgeting – estimating expenses for the new year, and generating as accurate a picture as possible about revenue.  Often the church's Treasurer takes the lead.  With the input of a few people expense projections are made.  Revenue is often projected by looking at records of financial stewardship for the year nearly completed and making adjustments based on assumptions about people's giving.  Projected expenses are held alongside projected revenue.  Then the rubber meets the road: any hopes for greater investment in ministry are met with realities of limited resources.  Discouragement is held in check by all conceding to the good wisdom of "living within our means." The church moves into the new year with a budget and ministry continues routinely. It's disconcerting how draining the process of annual budgeting can be.
Consider an alternative scenario that is framed as part of an annual cycle of renewal. Can you imagine ministry leaders, both the planners and doers, inspired by one another?  Where imagination is unleashed to share ministry hopes and the resources needed for that ministry?  Communication happens, collaboration is experienced, and energy and momentum are created for moving into a new year.  An annual cycle of planning as described below can help you grow the fruits of ongoing renewal in your church.
An annual cycle of planning begins with REVIEWING.  This key practice is about learning from past ministry experience.  The result is greater awareness,a shared sense of appreciation for all that has been achieved, for who has participated, and a sounder foundation for looking to the year ahead.  Looking back, what did each ministry feel proudest of in connecting its achievements with your church's vision and goals?  Learning from your ministry experience also invites you to name your needs for improvement.   What did not go as well as you had hoped, and why?  What prevented you from meeting those hopes or objectives?  REVIEWING invites a ministry team to pause and give thanks, and move forward with more and better information needed to be fruitful in the year ahead.
An annual cycle continues with PLANNING.  The key practice here is to integrate and act on your learnings as you look to the year ahead.  What successes will you build on? What new aspect of your church's vision and goals will you take up as your agenda for action?   What resources of people, time & energy and money will you need and can count on? What resources can you reallocate or generate?  And then, with all the possibilities of ministry that you could take on, what will you take on? Planning involves deciding what your priorities will be in the year ahead.  This all contributes to engaging in the budgeting – stewardship of resources in service of faithful mission and ministry.
"Two are better than one… a three-fold cord cannot easily be broken" is the wisdom from Ecclesiastes 4.  An annual cycle of planning enables all engaged in ministry to experience working together as the body of Christ.  It is amazing how in even  small or pastor-size churches with a few ministry teams, there are silos, where review and planning goes on in isolation.  The mutuality in ministry that can really make a congregation's ministries sing never occurs!  An "all teams" meeting that involves all groups sharing their achievements, their needs for improvement, and their ministry plans and resources can help to change that.  Every new year can be an opportunity for a congregation to learn and sing a new song together through sharing their review and plans together.  Hearing what notes the others are singing, finding your place and your voice alongside each other is much of the reward. Creating an occasion like an all teams meeting to collaborate in ministry across the whole of the congregation is an opportunity to really experience the body of Christ together.  Ministry partners often leave a joint meeting with greater awareness and appreciation for all that is going on in the church.   There is a shared appreciation for how all contribute to accomplishing a shared vision, goals and to opportunities for collaborating together.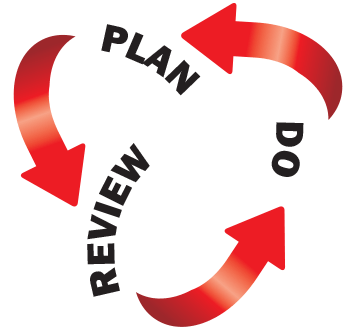 As a new year begins, all ministry teams and participants engage in the annual cycle of DOING.  And next year this time, they are prepared to enter into the annual cycle again, making the experience of renewal ongoing.
For practical resources you can use today to implement this scenario, visit Cultivating Really Great Teams . Here is a complete overview of resources that are included.   The practices identified and expressed in this article are addressed in particular in "Module #3: Collaborating in the Body of Christ."
The next issues of CenterLink will take up the important role of the Leadership Council in naming a congregation-wide renewal priority alongside the work of ministry teams, and integrating all these key practices into the church budgeting cycle.